Acoustic Pods - Soundproof Privacy Rooms Perfect for meeting rooms, privacy booths and popup workstations
---
Acoustic Pods are an ultra-modern, self-contained, soundproofed, lit and ventilated room-within-a-room. They are available in multiple sizes and configurations, allowing for a neat fit within the majority of open-plan rooms, offices, shops or indoor venues.
Multiple Configurations

Self-Contained

Soundproof
5 Fixed Room Sizes in Multiple Configurations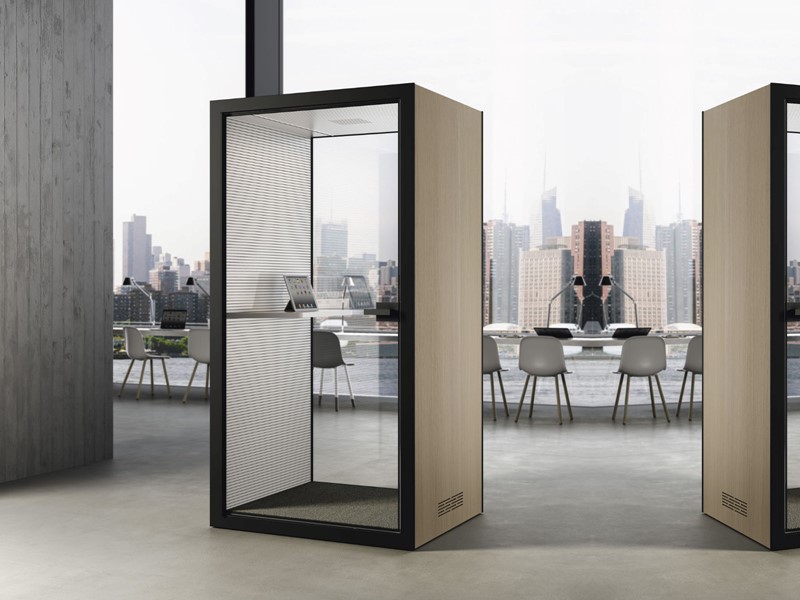 Mini Pod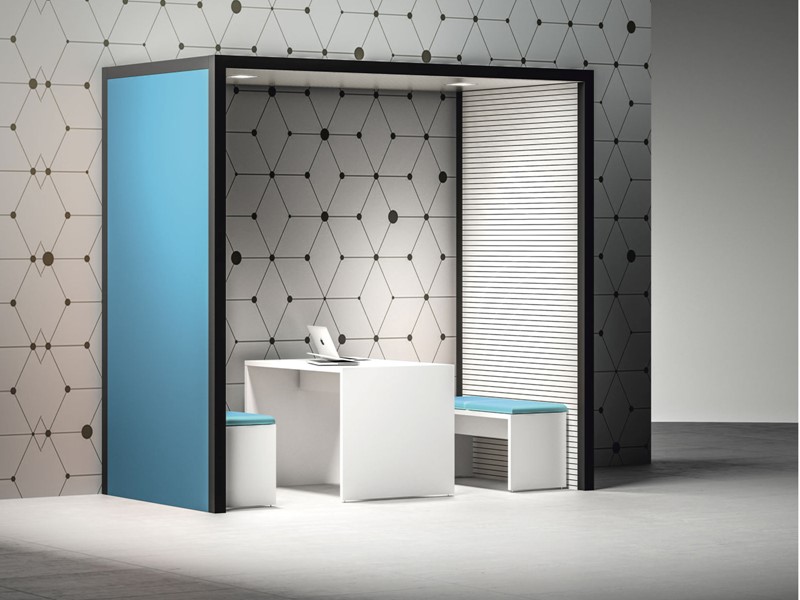 Small Pod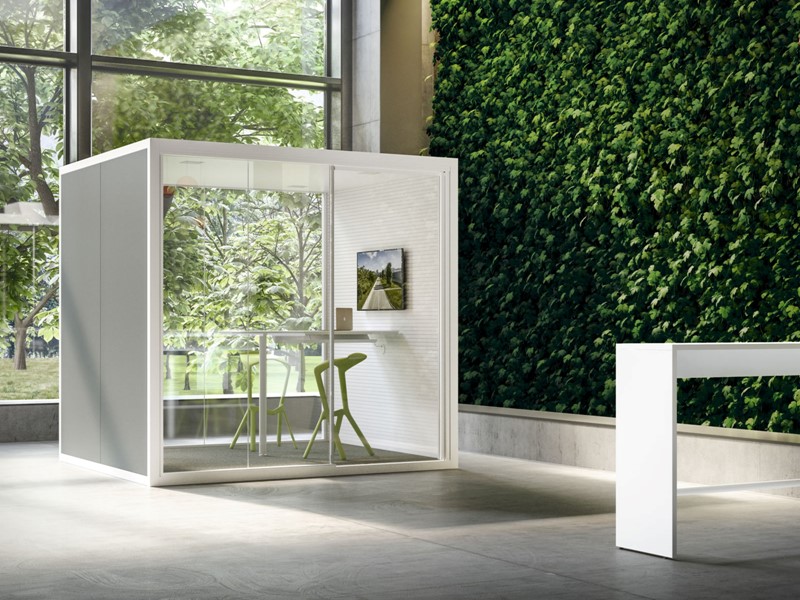 Medium Pod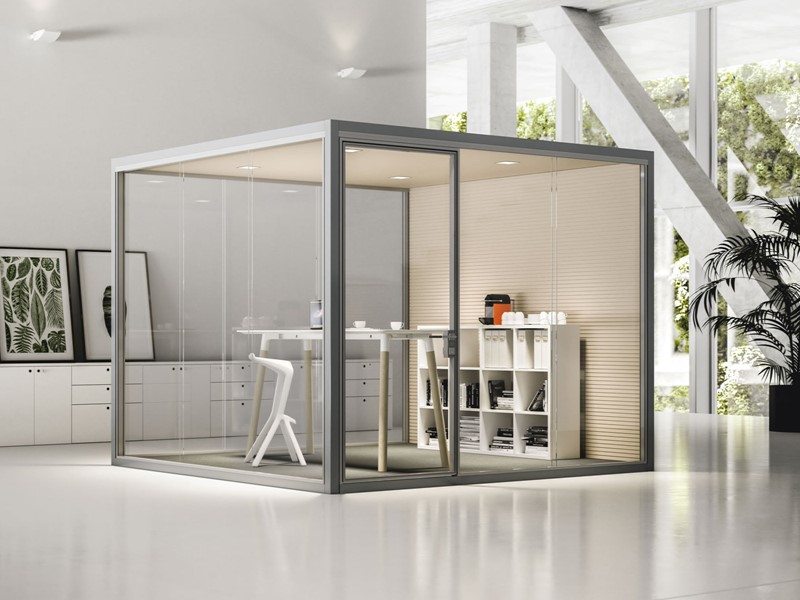 Large Pod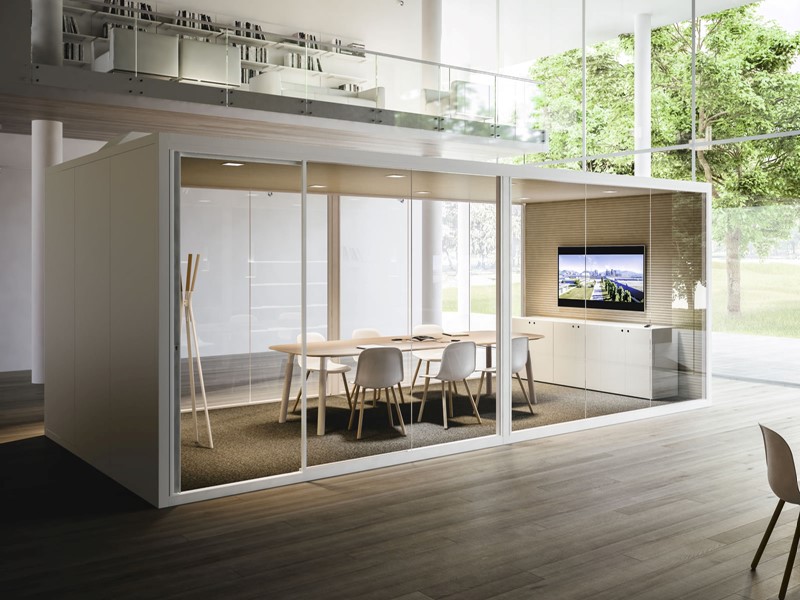 Extra Large Pod
---
Soundproof Privacy Rooms: Technical Specification
---
Acoustic Pods Are Available in the Following Sizes:
Mini - 1200 x 1200mm
Mini  acoustic pods are a bright, comfortable phone booth size that can be moved anywhere thanks to its self supporting structure. A versatile, practical and dynamic booth that is part and parcel of a new way of conceiving the work space.
Small - 1200 X 2400mm
Acoustic Room creates inpidual spaces that can be used as phone booths or areas for conference calls within any setting, optimizing the available space, with an open solution for positioning against a wall, or a closed, freestanding module.
Medium Room - 2400 x 2400mm
A "box in box", snug and comfortable for making phone calls or organizing a confidential meeting, with a peninsula table that can be used standing or sitting on stools. It will fit into any space without creating visual barriers.
Large Room - 3000 x 3000mm
A temporary work station complete with desk, a smart room for video conferencing, or a break area with a high table and stools: Acoustic Room is suitable for a vast range of different uses, with excellent liveability and acoustic comfort inside.
XLarge - 6070 x 3000mm
Creating a meeting room in an open-plan space is simple with Acoustic Room. The extra large module can easily accommodate a table for several people, complete with all furniture and multimedia technology.  
Custom designed, manufactured and installed to your specification

Roof pitches of 5° to 45°

Multiple rafter heights and eaves sizes

Available in multiple styles and colours

Double or Triple Glazing from 28 to 42 mm

Heat-insulated roofing system
A Peaceful Oasis in a Loud, Busy Environment
Acoustic Pods are primarily designed to provide a private, peaceful environment in what would normally be a loud, distraction-filled area. They're ideal for a  private meeting space, for making private telephone calls, self service kiosks, hotdesks etc.. However, the acoustically insulated pods are just as well suited to keeping your noise in - for all you budding drummers out there!
Customise Your Acoustic Pod to Meet Your Needs
Although eco-friendly LED Lighting and ventilation system are included in all Acoustic Pods as standard. There are also a number of customisation options ranging from a rooms without flooring and glass partition to a fully-loaded pod with insulated walls, flooring and glass or blind walls.
---
Acoustic Pods Room Examples
---